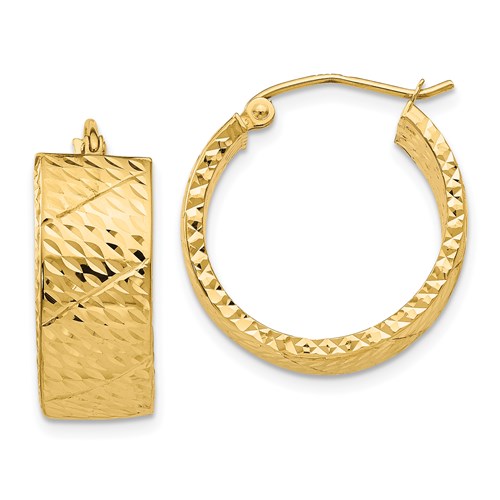 14k Yellow Gold Diamond Cut Hoop Earrings, Flat and Wide - 25mm (8mm thick)
These flat and wide 14k yellow gold diamond cut hoop earrings make a definite statement. With the diamond cut finish reflecting off the flat and wide tube, they gleam like the sun. Available in the perfect size of 25mm or 1 inch, these flat and wide gold hoops are bold and beautiful.
SIZE: Earrings Diameter: 25mm (1 inch); Tube: Flat, 8mm wide (0.31 inch); Clasp: Click-Down Clasp; This wide gold hoop is 14k gold and not gold-plated.
STYLE: If you're looking for a new twist on a classic style hoop, the flat tube is a perfect fit. They add a bit of sparkle and shine to your wardrobe and are sure to make you stand out wherever you are! Wear these gold hoops during the day to dress up a casual outfit, or with something fancy for special occasions. These wide hoops will make you shine from day to night!