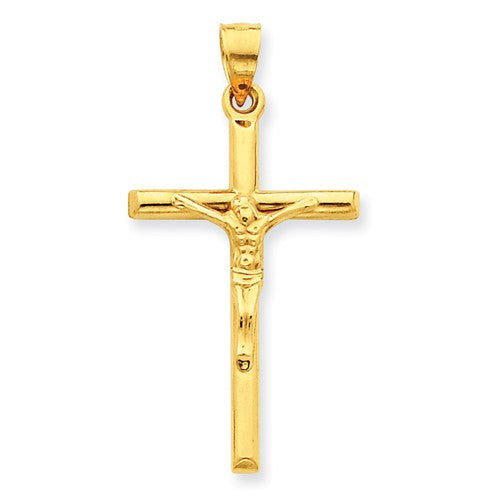 14K Yellow Gold Crucifix Cross Pendant, 39mm x 20mm
This simply elegant crucifix cross pendant is a medium-sized option for your everyday use. Its larger size makes it both durable and an eye catching piece. The hollow body allows for easy wear, without too much weight or discomfort. The crucifix cross pendant alone measures 33mm, with the bail it is 39mm.
This crucifix cross pendant is 14k yellow gold. It is NOT plated, but has a pure gold body with a hollow interior. Every piece comes with an authenticated 14k stamp.
This product is for a pendant ONLY, a chain or cord must be purchased separately.
Material: 14K Yellow Gold
Length: 1.5 inches (39mm)
Width: 0.8 inches (20mm)
Weight: 1.06 GM