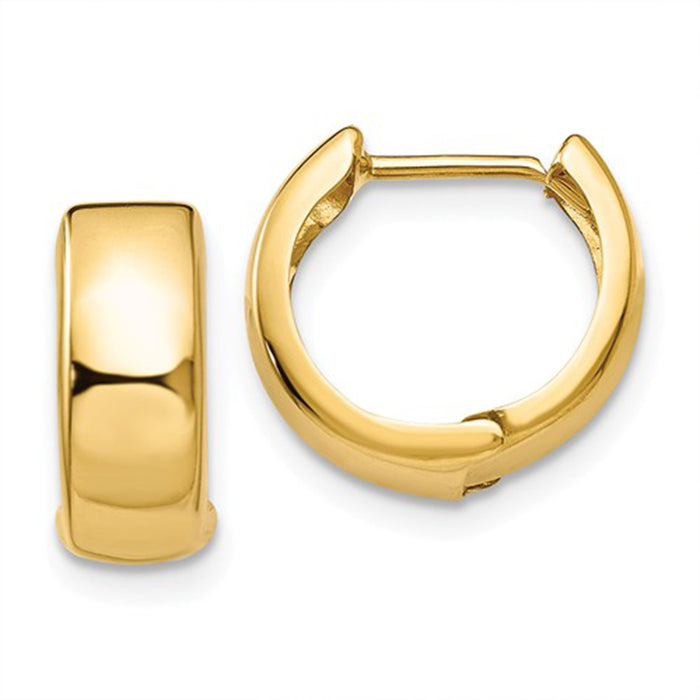 14k Yellow or Rose Gold Hinged Huggie Hoop Earrings (5mm), 1/2 inch (13mm)
These small and wide 14k yellow or rose gold huggie hoop earrings are perfect for all ages and sizes. Available in classic or diamond cut.  Their bold thick size is sure to make you feel large and in charge. They have an elegant, rounded surface, and are comfortable to wear even when on the phone. With a 5mm wide tube, and 1/2 inch in length, they are the perfect, dependable huggie hoop earrings.
The hinged-post clasp is sturdy and secure so these huggie hoop earrings will hug your ears all day, while still giving you that bold and confident look! And their yellow gold color will compliment any style or complexion. These huggie hoop earrings will quickly become your go to accessory for any outing!
These hoops are 14k yellow gold. They are NOT plated, but have a pure gold body. Every hoop comes with an authenticated 14k stamp.
Here are our 5mm Huggie hoops on our founder Susan Smith
Looking for an even thicker huggie?  Shop our 8mm style and see our thickest option!