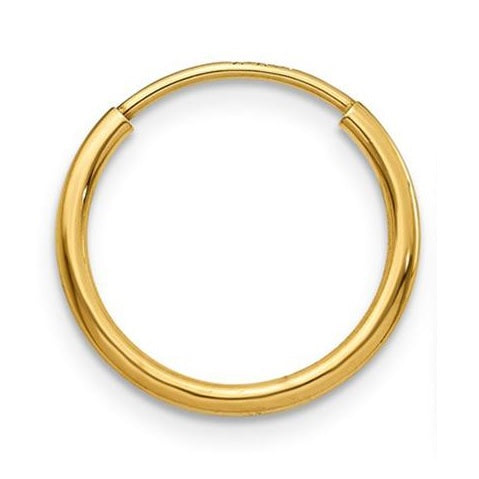 Single 14k Yellow Gold Endless Hoop Earring (1.25mm), 14mm
Note: This is a single endless hoop earring. If you are looking for a pair, please click here.
Thin and lightweight, this 14k yellow gold continuous endless hoop earring is the ideal add-on accessory for any outfit. With its radiant yellow color, this endless hoop earring is sure to make you stand out and help express yourself as the unique individual that you are. A thin 1.25mm body makes it a bit sturdier while still being flexible and easy to secure. A lightweight body means you don't have to sacrifice being comfortable to get a substantial look.
No matter what activities you want to do, this gold endless hoop earring will stay secure and safe in your ear. Its sleek continuous design is timeless, elegant, and classic. Endless hoop earrings will always be in style, so you don't have to ever worry about being out-of-date. Each earring is crafted from the finest 14k yellow gold.
Material: 14K Yellow Gold
Diameter:  0.55 inches (14mm)
Weight: .22 grams