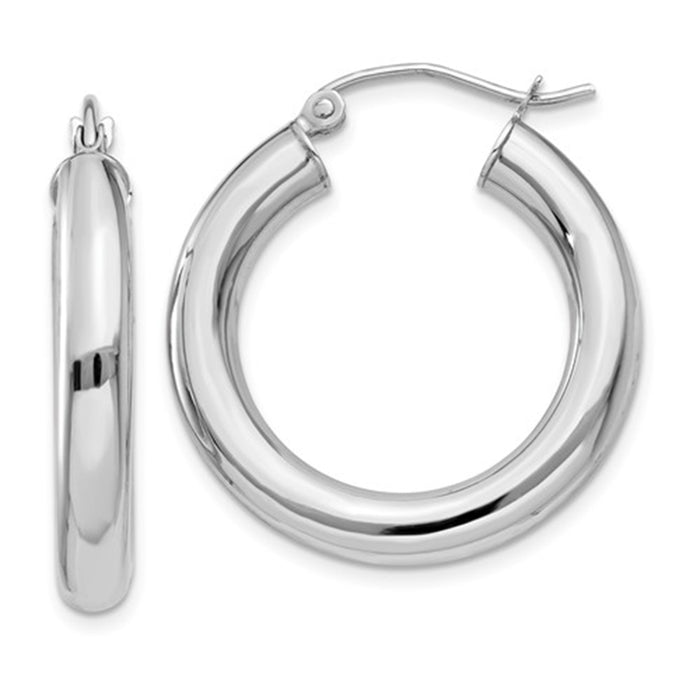 14k White Gold Lightweight Hoop Earrings (4mm), All Sizes
Our founder's choice, this is a classic lightweight hoop style that you can wear with everything. These lightweight hoops cost less and feature that safe, click-down clasp that makes it so comfortable on the ear. Hold a phone up to your ear in total comfort.  This style hoop earring is just what the "fashionistas" are talking about that everyone must have these days.
These lightweight hoop earrings come in different widths of tubes (see Lightweight Classic Hoops for thinner tube style) and different sizes (see Lightweight Classic Large Hoop Earrings and Lightweight Classic Largest Hoop Earrings) and in white and yellow gold.  These are the white gold ones.  
Material: 14K White Gold

Length:  1 inch (25mm)

Thickness: .15 inches (4mm)

Closure: Click

Diameter: .9 inches (23mm), 1.1 inches (29mm), 1.3 inches (34mm), 1.6 inches (40mm), 1.75 inches (45mm), 2 inches (50mm)

Tube Thickness:  .15 inches (4mm)
Sizing photo shows 29mm size.