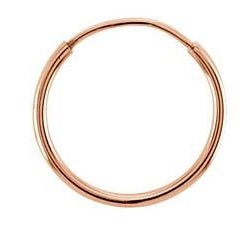 Single 14k Rose Gold Endless Hoop Earring (1mm) (12mm)
Note: This is a single endless hoop earring. If you are looking for a pair, please click here.
Looking for a new take on the traditional continuous endless hoop earring? Look no further! Add sophistication and warmth to your look with this single 14k rose gold continuous endless hoop earring! You'll love how small and lightweight this hoop is!
Elegant, delicate, beautiful and with a warm pink glow, this 14k rose gold endless hoop earring will grace your ear with a stunning look. With a fine 1mm tube, this hoop may have a thin silhouette, but it won't go unnoticed. Perfect for that special evening out or for an important meeting. Extremely light for its size, you won't even notice it on your ear. Add a bit of color and brightness to your look with this hoop! 
Tube Thickness: 1mm
Closure: Endless
Weight: 0.25g
Size: 12mm