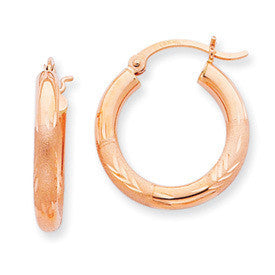 Top Fall Must-Haves From LooptyHoops!
As the fall progresses, you'll see a mix of 70's fashion, bold colors and statement earrings (of course)--some of this year's fall trends. Still, we love the classic brown hues, chunky knit sweaters, and tall boots that remain in style year after year. 

Add novelty to your look with LooptyHoops' unique designs, charmed hoop earrings and more! Rose gold has been surging in popularity. LooptyHoops offers 30 different rose gold hoops in every style and price range!
Preview these lustrous, hoop choices below to complement your unique style this fall season!
Make a statement with this wide yet light weight, 14K gold hoop! Available in three sizes, you will love the comfort and secure feeling when you wear these hoops. This classic style will complement any fall look!
One of our most highly trending rose gold hoop styles is our endless hoop. Available in sizes from ½ inch to 1 ¼ inches and from $42 to $91, these are easy to put on and oh, so comfortable!