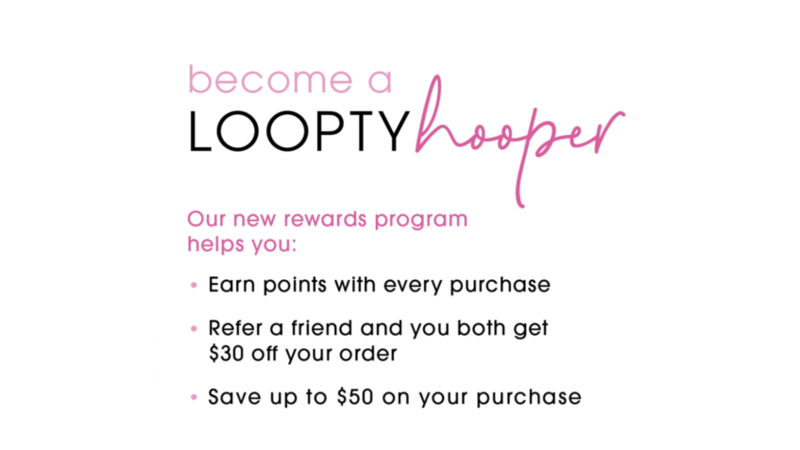 Be a LooptyHooper - Announcing Our New Rewards Program For You!
BIG NEWS! This year, as a thank you to our loyal customers, we've decided to launch an exclusive rewards program - starting now, you can join and earn LooptyHooper points!
There are so many ways for you to save and share your love of hoop earrings.
Here's how you can earn points:
Just by signing up! That's right - you'll earn 200 points automatically by joining our LooptyHooper rewards program
Liking, following, and re-posting us on Facebook and Instagram
Celebrating a birthday - each year, you'll get an extra 100 points as a gift from us
Placing an order - you'll get 2 points for every $1 spent
You can also refer friends! When you share your personalized referral link with a friend, they get $30 off their first order, and you get $30 off any future order. You can keep referring friends and keep saving on hoop earrings - how great is that?
Once you've got enough points, you can redeem them for cash off your future purchases:
$5 off for every 250 points
$15 off for every 500 points
$50 off for every 1,000 points
How can you sign up? It couldn't be easier - look for the icon on the bottom right of this page that says "Earn Rewards," and enter your information.
If you've purchased from us in the past, we've given you some retroactive points as an extra special thank you for your support.
Join the LooptyHooper rewards program today and save on your future purchases! We'll also be promoting exclusive holiday deals just for our members, and maybe even throwing in a free gift or two. We'd love for you to join us!