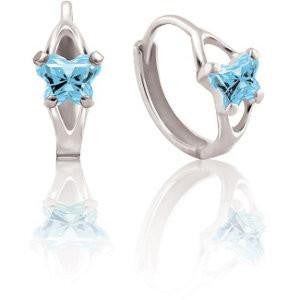 Birthstone Gift Guide
Shopping for the perfect birthday gift can be tricky.  What size does she wear?  What color does she like?  Where should I shop?
We've made birthday shopping that much easier with our handy Birthstone Gift Guide.  You don't have to worry about sizes or colors or driving out to the mall to stand in a line.  Everything you need is right here.  All you need to know is her birthday and, in a couple clicks, you'll be all set!
While the official list of birthstones has been updated, as recently as 2016, by groups such as Jewelers of America and the American Gem Trade Association, what follows is the current official list, including some relevant suggestions from our collection. 
Enjoy, and shop well.
January: Garnet 
February: Amethyst
You can find several amethyst earrings on our site, including these huggie hoops as well as charms, dangles, and hinged hoop earrings.
March: Aquamarine or Bloodstone
You can purchase these sterling silver hoops with butterfly-shaped cubic zirconia birthstones on our website.  Shown here is the March (Aquamarine) set.
April: Diamond
These white gold heart-shaped diamond hoops can be found in our large Diamond Hoop Earrings Collection.
May: Emerald
June: Pearl, Moonstone, or Alexandrite
July: Ruby
These diamond and ruby white gold hoops are perfect for July birthdays. 
August: Spinel or Peridot
September: Sapphire
We carry several sapphire items, such as these white gold huggie hoops, as well as diamond and sapphire hoops, sapphire dangles, and U-shaped oval hoops.
October:  Opal or Tourmaline
 Our yellow gold hoops with Mexican fire opals can be found on LooptyHoops.com.
November: Topaz or Citrine
These white gold hoops with blue topaz can be purchased on our site, as well as topaz huggie hoops and topaz charms.
December: Turquoise, Zircon, or Tanzanite
You can find these sterling silver hoops with turquoise dangles on our site, as well turquoise studs in square shapes or diamond shapes.