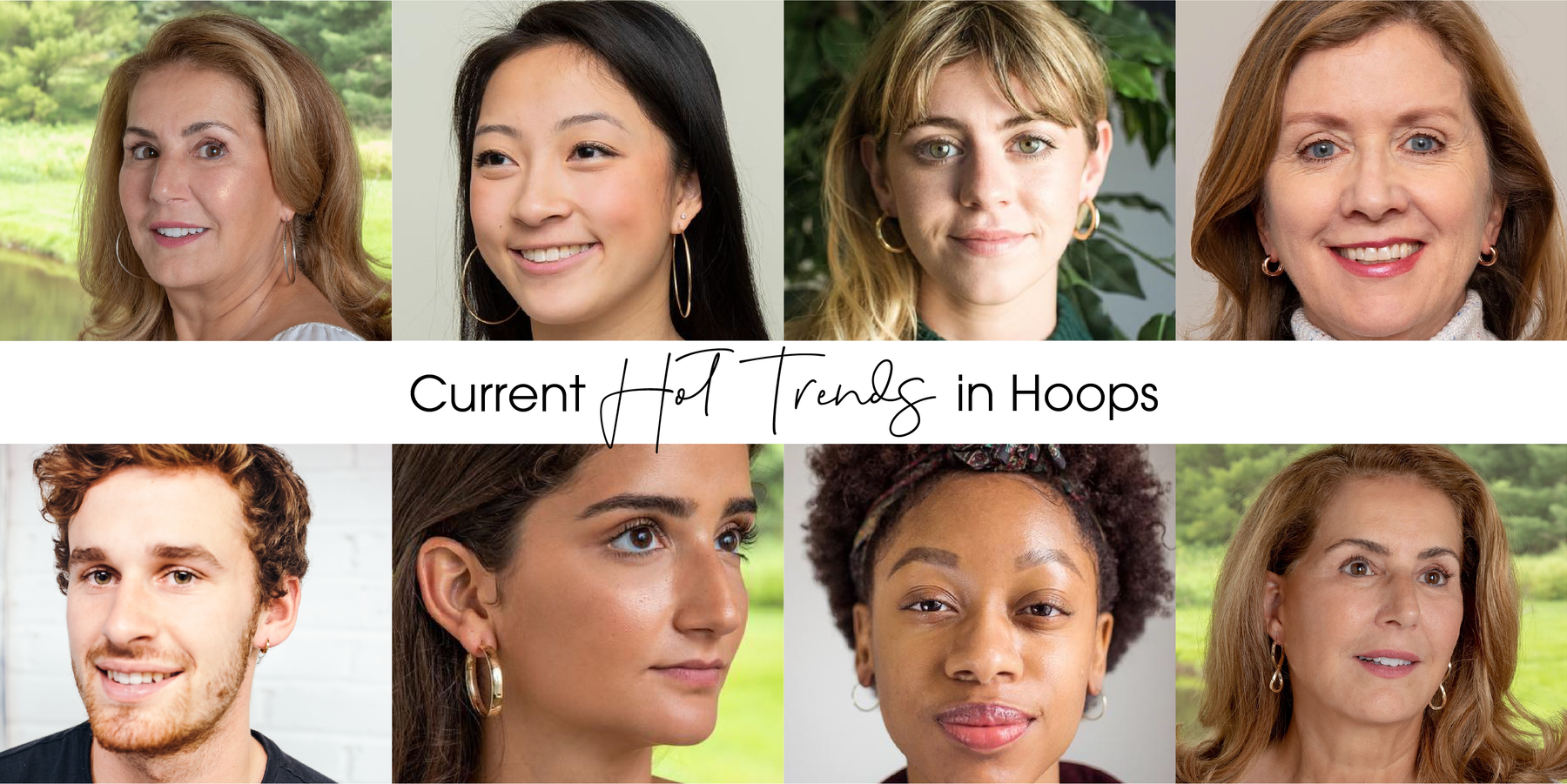 Current Hot Trends in Hoops!
 Enjoy 15% Off Your Next Order With Promo Code "TREND"!
Hoop earrings are more than just a trend; they are a liberating accessory that have been worn by style-setters in every generation Whether you're looking for a classic look or a bold style, a comfortable everyday style, or special event wear, we have them all. 
You can see our top 7 trending hoops here
One of the hottest trends is "Huggie Hoops" because they closely hug the ear lobe. As you can see in the images below, these stylish hoops provide a classic subtle look while being comfortable and safe to wear all day or night. Our Huggies come in a variety of styles, sizes, and colors.  Review our top 4 Huggie Hoops styles:
 If you are new to the huggie style hoops, these 5mm thick hoops are the perfect starter pair!  With a 12mm outside diameter, they will closely fit most ear lobes!  As our most popular huggie hoops, we are proud to offer the style everyone is after.
  Looking for the smallest hoop, but still want them to be bold and fashionable?  These 10mm huggies are the smallest diameter hoops we offer, which allow for a very tight fit.  At 6mm thick, they are still sure to impress and can be worn all day or night!
  Perhaps these 8mm hoops can provide the bold style you are sure to love!  Our thickest huggies measuring 15mm in diameter are the go-to look for professional or fashionable individuals.  This style of Huggie Hoops are the next choice for any wearer of our previous sizes, who are looking for the thickest Hoops we offer!
  Our round 2.5mm thick hinged huggie hoops will give you the look of classic endless hoops, while having a hinge to make them easier to wear!  Both men and women love this style.  They have an elegant, rounded surface, and are extremely comfortable to wear.  Available in 2 sizes, 15mm or 20mm!
2 - 14k White Gold Diamond Cut Hoops
If you are looking for an extra shine to your hoops, you are going to fall in love with our 14k White Gold Diamond Cut Hoops. Your friends will notice these white gold shimmering hoops! They look even better in real life than the photos show. 
Available in sizes 13mm (0.5 inch) through 60mm (2.4 inches)
3 - Infinity Figure-Eight Hoops 
When our founder Susan Smith was looking for a unique style of fashionable hoops, she knew she found the right pair when visiting Italy. These Figure Eight hoops are made exceptionally well and create an instant wow from everyone!  The high shine of these square-tubed hoops and the graceful twisting shape will stand out when you wear these unique earrings
Flat & Wide hoops are flashy and fashionable. The flat, 5mm width tube makes a visible statement. If you want a hoop that's bold, bright, and beautiful, this is the style for you. Flat & Wide hoops come in 35mm (1.38 inch) and 40mm (1.57 inch) diameter.
5 - Large 2mm Click Down Hoops 
These lovely hoops are eye-catching, yet classic. The thin, circular tube is hollow, making it lightweight and comfortable - essential for such a large hoop. You can pair these with everyday outfits for a striking touch, or give your evening and special event looks a bit of flair.
Thick hoops are everywhere on the fashion runway this season, and we want to help you get the look. The 5mm tube of this earring is bold without being too flashy - perfect for all kinds of looks. With diameters from 35mm (1.4 inch) to 50 mm (2 inch), you'll be sure to find a hoop for any occasion.
These thin and elegant hoops are so versatile! They work as a beginner earring for children with their first earrings, and great accessories for a subtle office look. The continuous closure ensures that this earring will stay in your ear no matter what, which is why it's so great for all ages. These hoops come in sizes 10mm (0.4 inch) to 24mm (0.9 inch).