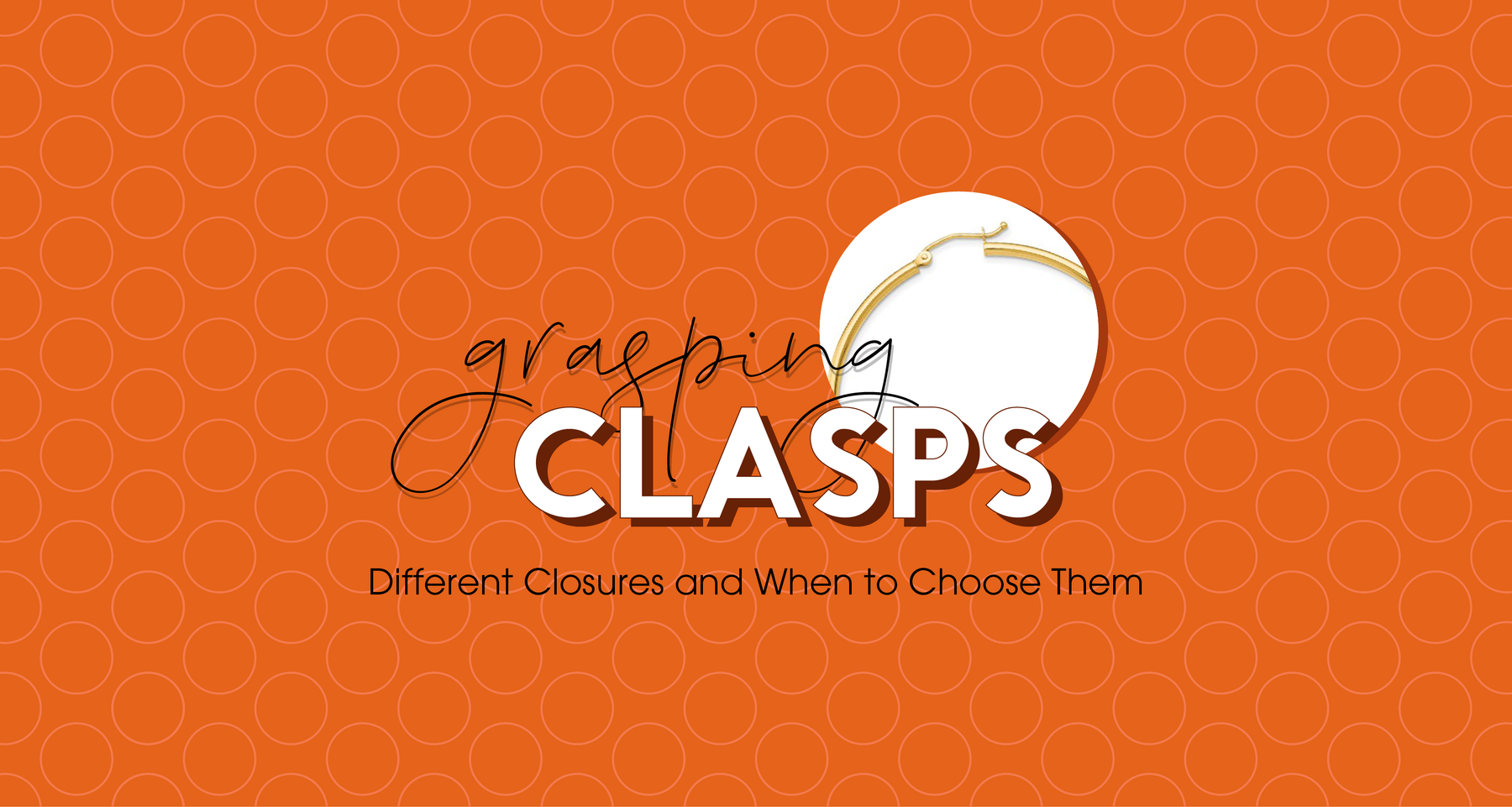 Grasping Clasps
LooptyHoops has a lot of hoops, and a lot of different closures. Choosing which clasp you want can be confusing, especially when confronted with one you've never seen. We're here to help! Here's a rundown of the earring clasps we offer, and when you'll want to choose them.
You've seen this closure before. The click-down is the most common type of clasp for hoop earrings, and the most durable. To put it on, you simply slide the post into your piercing, then click it down into the claw at the back. 
This clasp is perfect for everyday wear due to its ease and security. You can throw them on and do just about anything. If you want to learn more about hoops with this type of clasp, check out our guide to yellow gold click-downs.
Endless hoops are super sleek and fashionable, but this closure can be very confusing to put on. It consists of a curved post that inserts into the hollow tube of the hoop. We've made a helpful guide to putting on this hoop complete with videos. The hard work is worth it in the end for a hoop that's as beautiful as it is secure.
This closure is perfect for sleeper hoops, physical activity, or any other time you want hoops without hassle. From the sports field to the dance floor, these hoops will stay exactly where you want them.
Looking for endless hoops with less difficulty? Try this clasp on for size. The hinged endless clasp, also known as the EasyOn endless clasp, is sleek and simple. It features a hidden hinge that allows the post to click down into the tube, similar to a click-down hoop.
EasyOn hinges are perfect for those unable to use the traditional endless clasp. Whether you lack the dexterity or don't want the hassle, you don't have to miss out on the style of endless hoops.
The hinged huggie is one of our most popular styles, and its clasp is a big reason why. It features a straight post that inserts similar to a stud. The hinge is located at the bottom of the hoop itself, and allows the clasp to click into place.
The hinged huggie is a great hoop for beginners and those who don't often wear hoops. This is why hinged huggies are popular with men and women; they're even easy enough for children to put on. If you want the ultimate no-hassle clasp, this is the style for you.
This is another "hinge" you've seen before. The post-back is most often seen on studs, but they can also be found on hoops. You simply put the post in your piercing, put on the back, and you're done! Backs for these earrings can be rubber, metal, or plastic. They're important for keeping your earring in place.
The post-back is easy and simple - perfect for those who want fewer moving parts. This makes it great for people who don't wear earrings often, or are new to them. The post-back is also great for those who just want something easy.
The wire hook, also known as the fish hook, may be the simplest "closure" of all. The hook, shaped like one on a Christmas ornament, simply slides into your piercing and that's it. Earrings with this clasp stay on thanks to gravity and ingenious design.
This is another easy closure that's often found on dressier earrings; that makes them perfect for those who want something fancy, fast. With wire-hook hoops, you can throw your earrings on and run to any event.
We hope this guide helped you choose the perfect closure. Please check out our
Amazing Hoops collection
to see tons of our favorite styles and filter them by clasp. Thanks for reading, and happy shopping!