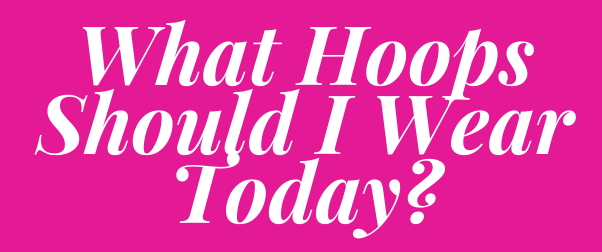 What Hoops Should I Wear Today?
When I'm deciding what accessories to wear, I always start by thinking about what I'm going to be doing that day and what outfit I've chosen. 
My basic rule of thumb is that I only wear silver for casual occasions, and I try to wear my gold jewelry on dressier days.
If I'm going to the gym or spending time outdoors, I'll wear silver. I'm more likely to wear silver because if I happen to lose an earring or a bracelet slips off my wrist, it won't be as expensive to replace. There are so many stylish silver designs out these days, so we have a lot to choose from!
Hoops with click-down clasps are sure to stay put no matter what you have planned for the day! The hinged endless hoops (below) are easy to put on, lightweight, and incredibly comfortable.
I like to wear gold jewelry when going to the office, attending any sort of celebration or business function, things like that. Depending on my outfit, I could wear rose, white, or yellow gold! I'll tailor my choice of jewelry based on where I'm going. Maybe something more understated for the office, like these lightweight yellow gold hoops.
For a dinner date with my husband, I'll go for something a little fancier, like these rose gold oval hoops.
And for a networking event, I'll choose something subtle but memorable, like these white gold diamond cut hoops.
How do you decide what jewelry to wear? Let us know in the comments!