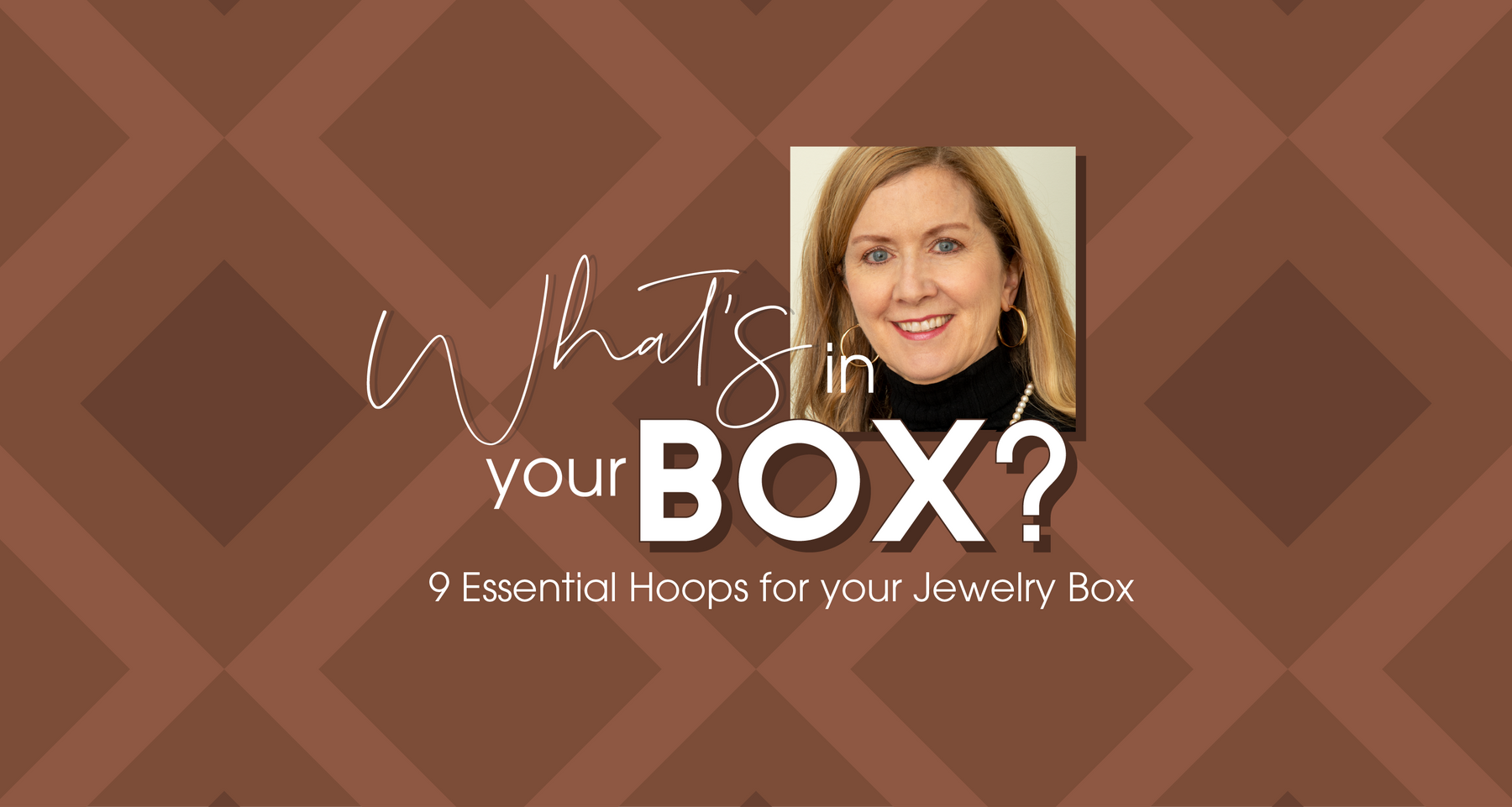 What's In Your Box? 9 Essential Hoops for your Jewelry Box
Since I founded LooptyHoops, my friends ask me for advice on hoops to buy for themselves or gifts. Here's what's in my jewelry box; I think would be good in yours, too! These include classic looks, and unusual, unique ones too.
Classic Hoops
Classic ones are easy. Three sizes.
One – A wide (3 - 4mm) relatively small/medium style. Mine are just under an inch. These are bolder, visible, classy, and professional. (Shown: 14k Yellow Gold Lightweight Tube Hoop Earrings (4mm), 25mm (0.9 in))
Two – A thin, yellow gold click-down – These are easy; just put on and go! An inch or a little larger. Mine are 30mm (1.25 inch) (Shown: 14k Yellow Gold Lightweight Hoop Earrings (2mm), 30mm (1.2 in))
Three – A larger, thin, sparkly hoop for a night out (1.5 – 2 inches, 2mm) (Shown: 14k Yellow Gold Satin & Diamond Cut Hoop Earrings (2mm), 50mm (2 in))
Unique Hoops
Unique ones, I love.
Undulating, figure 8 or Infinity hoop earrings. Perfect with your blouse that has swirly patterns on it, or a basic solid color where you want attention to your beautiful earrings.
Huggie hoops – wear them to work, or workout. They are bold, close to the ear; they go with a style, not detract from it. (Shown: 14k Gold Thick Huggie Hinged Hoop Earrings .60 Inch (15mm) (8mm Wide) in white gold)
Wide, large hoops. Love these I found at an Italian jewelry show. The wider flat width makes them unique. In fact, this is the pair I'm wearing in the photo at the top of this blog. (Shown: 14k Yellow Gold Flat & Wide Hoop Earrings (5mm Wide), 35mm (1.38 in))
White gold oval hoops – although the hoops above are in yellow gold, one must have white metal hoops as well. I prefer white gold, I never have to polish them, they go with blues, blacks, white. The oval shape is perfect for my face and earlobes. Have a silver link bracelet handy and maybe a silver ring so all your jewelry can be the same color. If the white gold is out of the budget, add silver hoops to your jewelry wardrobe instead.
Pearl hoops – love these and give them as gifts often. Perfect to wear when you have a strand of pearls on but without the strand, they are great with any top that has polka dots on it, or a black and white top, to be worn to any fun event. Set in sterling silver.
Sparkly white gold hoops, diamond cut. These are one of my all time favorites because they look so beautiful on. The light catches the diamond cut and sparkles in real life better than our camera can capture. My choice would be about an inch but they come smaller and larger. (Shown: 14k White Gold Diamond Cut Hoop Earrings (2mm), 50mm (2 in))
If you have each of these in your jewelry box, you'll have a perfect selection from which to choose each morning while you get dressed for the day and night!